Instagram has long been the place for companies to go to get their brand message out to the public in as entertaining and engaging a way as possible. Today's internet audiences love visual appeal, and Instagram allows brands to tell their story using photos. The more creative the photos, the better the story. There are already a number of third-party photo editing apps that make it easy to customize photos for Instagram storytelling. However, Instagram has now, for the first time, introduced its own photo editing app called Layout.
Layout is currently available for iOS, with an Android version on the way. It has some distinct advantages beyond other photo editing apps that make it the preferable choice for telling a visual story. It is particularly beneficial to non-profits who want to get their message out there and engage with the public. Here are five ways your non-profit can use Layout to bring your message to the public and get them invested in it.
1. You Can Customize Your Story with Adaptable Layouts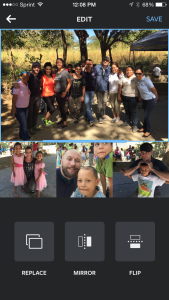 When you use the Layout feature for your non-profit, you have the ability to create a really compelling visual story. The more interesting your photos are and the more creatively they are put together, the more interest they will receive from other Instagram users. Tell the story you want in the most visually captivating way possible and other users will not only understand exactly what your non-profit does, they will likely become enthusiastic about it and maybe even get involved or make a financial contribution.
Using Layout, you can make collages out of up to nine photos using up to ten grid designs. Once you've arranged your photos, you can edit them in a variety of ways, such as:
Zooming
Mirroring
Rearranging
Flipping images within the grids
Once you're done editing, you can share your visual story board on Instagram or Facebook and get your message out to your audience, who will ideally be captivated by it and share it with their friends.
2. It's Easier to Use than the Third-Party Apps
If you're not used to photo editing or are just getting started with Instagram, Layout will make telling your visual story simple. Many of the third-party photo editing apps out there are complicated to use and are made for people with a lot of experience. Even a novice can use Layout to its fullest advantage with little instruction. It is a highly intuitive app meant for users of all levels.
For example, you will see your camera roll first in Layout, not an empty grid for you to fill, as you would with other apps. With Layout, you can choose the photos you want to use before you decide how you're going to arrange them. This simple change from the typical photo editing app means collages are easier to make and quicker to put together.
You can use this to your advantage in your non-profit by "live-gramming" an event your organization is putting on. Your audience will be able to see what is going on at the event in real-time through your photo collages, which allows them to see what you do, how you do it, why you do it, and some of the benefits of getting involved with your cause.
3. You Can Make a Powerful Statement about the Human Side of Your Cause
Showing people being involved in your cause or being helped by it tells a powerful story that your followers can't help but find compelling. It is a lot easier to become drawn to a cause when you see the real benefit it is having for actual people (or animals, in some cases) in a direct way. Layout makes it easy to showcase the people you are helping through its "Face" feature.
"Face" instantly scrolls through all of your photos and pulls out the ones that have people in them. These are your most powerful photos, and you can quickly eliminate any landscapes or product photos that won't help tell the human side of your story. Choose the most compelling images of people being helped by your organization or those who are volunteering with your group and you will have a photo series or collage that gets attention and interest.
4. You Can Get Candid
Layout allows you to capture those special, candid moments that your followers love by using its Photo Booth feature. The Photo Booth feature lets you take up to four photos right after the other, just like in a novelty photo booth in a mall. It only works with the front-facing camera option, so you're limited to selfies with it, but this can be a good thing for your non-profit.
Using Photo Booth, you can show yourself or your staff in candid settings while doing the work you love. Your followers will see that it's not just volunteers who are helping out; they will be able to see you and your staff in action, as well.
This is an important part of telling your story to the public and another way to get them engaged with your cause. Everyone wants to see the real people behind the organization in action, and being able to see you in "selfie" form can be a powerful call to action for others to get involved in what you do.
5. You Can Tell Visual Stories in a Variety of New and Unique Ways
The more visually complex your photos and collages, the more they will draw people into them and make them intrigued. Intrigue has the capability to easily lead to motivation.
Instagram itself says it succinctly: "From imagining mirrored landscapes to sharing multiple moments from an entire adventure, we've seen these kinds of visual storytelling happening on Instagram and we're inspired by it."
If Instagram is inspired by this type of storytelling, chances are your audience will be, too. Use Layout to create the most visually adventurous photographic stories you can imagine. Your followers will be drawn to them and will be much more likely to share them with their own networks.
The more interest you can generate with your images and the more they are shared, the more you get your message out there and attract participants and contributors. Used correctly, Layout can skyrocket the success of your non-profit's cause by captivating and engaging the very people you want to get involved. Start using it today and see the difference it makes to your organization.